Every human action gains in honour, in grace, in all true magnificence, by its regard to things that are to come.
It is the far sight, the quiet and confident patience, that, above all other attributes, separate man from man, and near him to his Maker; and there is no action nor art, whose majesty we may not measure by this test.
Therefore, when we build, let us think that we build for ever.
Let it not be for present delight, nor for present use alone; let it be such work as our descendants will thank us for, and let us think, as we lay stone on stone, that a time is to come when those stones will be held sacred because our hands have touched them, and that men will say as they look upon the labour and wrought substance of them, "See! This our fathers did for us."
—John Ruskin
The Seven Lamps of Architecture
Eisenhart Builders has been building custom homes and commercial buildings throughout the Flathead Valley of northwestern Montana for more than twenty years – developing an extensive network of Designers, Engineers, Mechanics and Craftsmen – all while maintaining a relatively low profile.
Our personal approach to your project begins with the planning phase and carries through to completion. George's practical experience in all phases of construction, an eye for details, and his on-site project management, Lucille's administrative support, and a collaborative spirit among all involved – designer, contractor and client – combine to ensure that the design and budget fit your lifestyle, that the project progresses precisely and efficiently, and that the finished product is something in which we all take pride.
Your home is, after all, YOUR home. A place where family and friends will gather, where life will be lived, and memories made. It is an honor to have been entrusted by so many over the years, to lend our talents to helping them create the perfect setting for all of this! For helping to create a place that, as Ruskin said, their descendants will thank them for…
Let us begin to help you plan your project, by connecting you with some of the best in the business.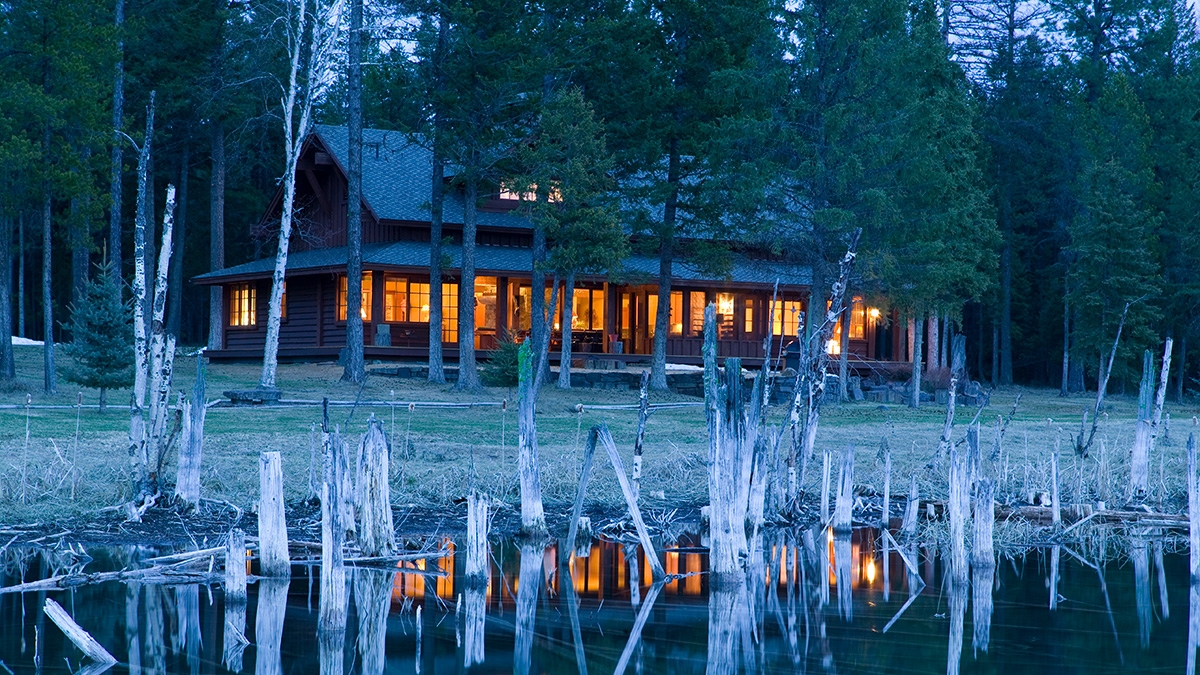 "My wife and I had a long time dream to build a log home somewhere in the Rockies. Twenty years ago that became a reality and we did it with Eisenhart Builders. We knew absolutely no one in the region. We interviewed three builders and Eisenhart won out.
George is a great listener and had an imagination that totally connected with us. He is a master carpenter and a great leader. I found it always to be a pleasure to watch his team busy at their craft and he always builds the right team for the chore at hand. Several years after building our main house, we added on. There was no need to shop the job. I gave it to George. We have been delighted with the results. As time moved on one of our dear friends bought across the street. We recommended Eisenhart Builders for the severe make over. They did an exquisite job.
Eisenhart Builders, I have found, are comfortable in a numerous variety of styles. No matter what direction you want to move into they can flow with it and produce something very special. Integrity, craftsmanship, no surprises. These are the traits I think of when I think of Eisenhart Builders. And if the cherry on top is giving the job to good people, they win hands down. They don't get any better than George and Lucille Eisenhart. They want to create a home for you that you will always cherish. Their passion for that always shines through."
— Bill Hoffman
Retired President, Cox Media Group
Our home on Big Mountain was constructed by Eisenhart Builders (EB). We learned about EB when our Whitefish realtors invited us to dinner at their house. When we arrived they gave us a tour. We were both immediately struck by the amazing quality of the workmanship, so we asked who built the house. They told us that EB was the builder and they went on to rave about George & Lucille. Because of that house, EB made our list of 5 potential builders, and we ultimately selected them.
When we first met with EB to review our plans, during the meeting George said that he considered himself an artist. We were a bit skeptical at first, but we had seen our brokers' house and, during the construction of our house, he proved that statement to be true. It was also obvious that Lucille was the driver on the financial side and that was critical because the budget was key to us. When we received the first estimate, it was more than we planned to spend, so EB worked with us to modify the plans to drive down the cost. We have no regrets about any of those changes and, at the end of construction, the EB budget was right on.
There was no underbidding of allowances, as some builders do, who then destroy the budget with unwarranted but necessary change orders. There were only two change orders during our construction-one suggested by George and one requested by us. The change order suggested by George related to a stone wall in the foyer, and the end result was better than we could have ever imagined. George & Lucille also made numerous suggestions, before and during construction, which turned out amazingly. In addition, we were driven by energy efficiency so George and Lucille went to a green builders' convention prior to breaking ground just to make sure they were up to speed on the latest developments in that space.
My wife and I have been involved with 4 house builds, and this was by far the easiest and the best experience we could ever have. We were not residents in Whitefish at the time but we never felt out of touch as EB kept us connected with actual spend to budget updates, phone calls and progress pictures. When we did go to Whitefish to inspect and make selections, EB had everything coordinated and well organized. Also, we have never seen a cleaner, more meticulous work site. My wife told EB that she didn't want to see 20 options per selection-she wanted to see no more than 4. She was so comfortable that George & Lucille had picked up on her taste that she knew the 4 selections they presented would yield the right one, and they always did! At one point, she even delegated a kitchen back splash selection to George, subject to Lucille's approval of course! From my wife, that was a high compliment!
We ended up with an awesome home that we absolutely love, as well as two dear friends. When we told our banker (who also raved about working with EB) that we wanted to have an after completion party for EB and the subs, he commented on how rare it was to close a home construction project with that good of a relationship. The final thing to say is that when EB builds a house, EB takes real responsibility for that house and that pride is the mark of a true craftsman! Whenever George and Lucille visit we feel obligated to have the house looking as good as possible so as not to upset George! If you are looking for an honest builder with absolute integrity, EB should be on the list. But when you combine those attributes with the care and craftsmanship that EB consistently delivers, we don't believe you could choose a better builder.

— Carol & karl moody